About The Director
"Since so many filmed events around classical music, especially documentaries, seemed to consist of rapid-fire video clips or soundbites that offered little in the way of substance about the music that was being presented, I wanted to create natural and perhaps more truthful representations of the musical world as it exists today - views that unfold like musical compositions themselves"
- Director Robert Chesterman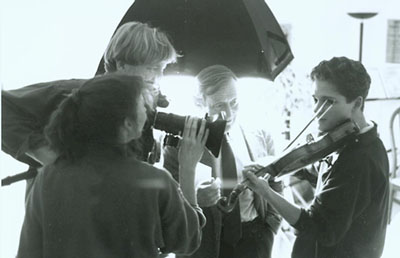 Robert Chesterman filmed his first feature The Boast of Kings, a documentary about the Choir and Chapel of King's College, Cambridge, as an independent producer-director in 1980. This was at the request of the College, and followed his radio broadcast for the Canadian Broadcasting Corporation several years earlier. This filmed portrait inside the College subsequently received a bronze medal at the New York International Film & Television Festival.
This first film led to contacts around the world with top professional artists - although much of his experience came out of his quarter-century compiling radio features as an Executive Producer with the C.B.C., often with some of the great musicians of the past half-century including Leonard Bernstein, Herbert von Karajan, Sir Georg Solti, Eugene Ormandy and James Levine - incorporating documentary material on such famous ensembles as the Philadelphia Orchestra, the Chicago Symphony, the Salzburg Festival and Mahler's Vienna. The best interviews were compiled into two published books, Conversations with Conductors and Conductors in Conversation.
Classical music has always been a niche market, and any filmmaker must face up to a certain amount of resistance from program directors in attempts to achieve a worldwide viewing audience. Prometheus films have been shown in many different countries on many networks: aside from the CBC in Canada and PBS in the States, productions have been broadcast on Britain's ITV and London Weekend Television, as well as on networks in Belgium, Denmark, Ireland, Australia, New Zealand and South Africa.